Humans aren't the only ones drawn to music festivals, especially ones that run from dusk to dawn for three nights straight…
Entranced
When vampire Wade is told by a psychic that he's going to meet his soulmate at Electric Daisy Carnival in Las Vegas, he thinks it's a load of crap. But his curiosity won't stop plaguing him. Could a vampire really have a soulmate?
Kandi
Mya hopes the music festival will take her mind off the gnawing hunger that has plagued her for months. Even though she eats plenty of food, she's become dangerously thin. When cute stranger Somer kisses her, not only does she feel an enticing heat curl within her but something else that could be the key to making her well.
The Drop
It's the last night of the festival, and Tyler is less than thrilled. Both his friends have met love interests, and they arrange for everyone to hang out together, which means Tyler gets stuck with the other third wheel, a girl named Scarlett. She's sweet and has girl-next-door good looks. But when she touches him, his mind is filled with thoughts and memories that aren't his own.
Where You Can Buy It
Paperback: Amazon
Audiobook: Audible
Ebook: Electric Desert Nights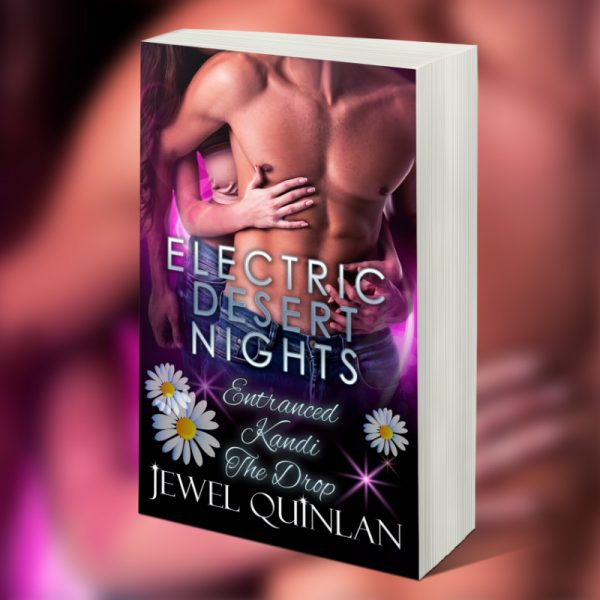 Interview With the Author
What is the Electric Desert Nights series about?
Electric Desert Night is a series of three short stories all set at Electric Daisy Carnival in Las Vegas. It is a three-night event where DJs from around the world come to play various styles of electronic dance music, or EDM. Being a lover of EDM myself, I had the pleasure of attending the carnival this year and was amazed at how huge the venue was. There were seven stages total and all of them were packed with people! Each night runs from dusk till dawn (yes, I did see the sun come up a couple of times). Anyway, while I was there I couldn't help thinking what an ideal place it would be for paranormal creatures to come and feed on humans. And, bam! That was how the series was born. You never know when inspiration will strike, lol.
In each book of the series a paranormal being is brought together with a human, and each experience is a discovery of an underlying connection between them.
Who was your favorite character to write?
Somer, the incubus, was my favorite. He's just kind of a cheeky, comical, fun-loving incubus. He seemed to speak all on his own in my head. I myself am the opposite of him so it was interesting how his description and dialogue popped up out of nowhere from the very beginning.
Your series includes a vampire, an incubus, and a ghost. Why have several paranormal creatures?
I know most authors stick to one at a time. But I find it hard to believe that only one paranormal creature can exist in the world. If vampires can exist, why not the others? I don't think having a ghost was too much of a stretch. Even in our world today there is a ton of evidence to support the existence of ghosts. I guess I just don't like limitations. I actually loved the way the three of them played off of each other and had their own unique stories to tell.
Why write short stories? Why not full length novels?
I write all lengths of books. It's really up to the story to let me know how long it wants to be. I am at its mercy, lol. But I think short stories are great for lunchtime breaks or waiting rooms or other times when you just need some quick entertainment. At minimum, I hope my stories provide readers a break (from whatever they need a break from) and let them experience something they never actually would in real life.
About the Author:
Restless by nature, Jewel Quinlan is an avid traveler and has visited sixteen countries so far. Lover of ice cream, dark beer, and red wine she tries to stay fit when she's not typing madly on her computer concocting another romance novel. In her spare time, she likes to do yoga, hike, learn German, and play with her spoiled Chihuahua, Penny.
For more information about Jewel Quinlan
Website | Facebook | Twitter | Tumblr | Goodreads | Amazon | Instagram
Or join Jewel's newsletter if you just want to get the most important updates